…and just 9 weeks until the Marathon du Medoc (which I'm treating as a training run for Dublin, but I still have to be able to cover 26.2 miles!)
This was busy week at work; even though I still fit in a fair amount of fitness, I sadly barely took any pictures the whole week. So this is a low-picture kind of post.
But still, it was a solid week of fitness and the London weather was quite lovely (except one rainy day Thursday when I did the speed workout.)
Monday: Solo run before work, 7.3 miles
Tuesday: Rest from running, Kim Runs the Mitten lower body strength workout + core.
Wednesday: Run commute, 4.75 miles, then a social 5k with a group from the office. About 8 miles total.
Thursday: One last speed workout before the JPM 5.6km race next Wednesday. I ran to the Regent's Park cinder track (about 2 miles), then did 5x1k at race effort with 600m recovery jog, and back home for 9 miles total. The 1k repeats weren't great- the first 2 were on pace, the 3rd was quite slower than the goal, and the final two were somewhere in between. But, hey, I did the workout and it was raining the whole time, which made it more mentally challenging. I hope these legs have some speed next Wednesday! There's been so much hype about this race at the office and I'll admit I'm feeling some pressure to perform…
After work, I went to barrecore in Hampstead. It had been a little bit since I went to the studio and it felt great.
Friday: 5 miles with Ruth and Dustin then working from home; I fit in some core and an upper body Kim Runs the Mitten workout.
Saturday: Long run, 12 miles solo, pretty uneventful.
That evening, we had dinner in Covent Garden at a Peruvian restaurant called "Floral" before seeing Operation Mincemeat; yes, I already saw Operation Mincemeat with my colleague a month ago, but Dustin wanted to see it so it was one I was happy to see again. It's a really fun & silly musical.
Central London was extra busy on Saturday due to the Pride festivities- fun to see!
Sunday: Sunny 7 mile run with Ruth and Dustin followed by a "Barre Restore" class at barrecore. I had never taken the Restore class before, but it was essentially just 50 minutes of foam rolling (but with a hard ball the size of a the prop ball you normally use in barre.) It was probably really good for me, though I don't know if I would pay for a full class on a regular basis.
Later today, we are going to see Asteroid City, the new Wes Anderson movie. I haven't been to the movie theater since pre-Covid! I've been to quite a few theaters, but only for plays/musicals, not movies! I can't believe it's been since 2019…! But honestly, like many others, our movie-watching habits have changed, we mostly watch movies at home in our pajamas!
Summary: About 48 miles of running, a bit of strength, lots of 12 min dead bug workouts with Caroline Girvan on youtube (free!)
I'll leave you with another picture of Ruth at Bruce's Doggy Daycare! She's usually full of endless energy, its a surprise to se her actually laying down! She must have finally been worn out…at least for a little bit!
I'm linking up with Running on the Fly and Confessions of a Mother Runner; check out their blogs to connect with other fitness bloggers for workout ideas and inspiration!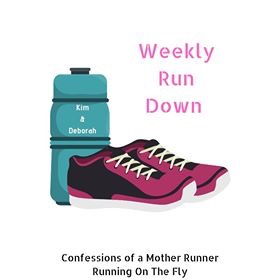 (Visited 1 time, 2 visit today)



Credit : Source Post