Fellas, let's talk about fitness a bit differently. Or, more specifically, men's wellness. . .
Are you tired of needing a personal trainer to stay in shape? Or sick of being told to eat nothing but kale and protein powder? What if I told you there's a better way? Where you can control your health without sacrificing your freedom or your wallet. That's right, we're talking about the world of men's wellness apps.
 
From virtual coaches and guided practices to nutrition tracking, these wellness apps are changing the game when it comes to staying fit, mindful and healthy.
 
If you're ready to ditch the gym membership and start exploring a new way of growing and shaping your total body in an ultra convenient way, then you are in the right place.
Read on for our full – and honest – review of our favorite men's wellness apps to support you in your health and wellness journey. We even include the number of reviews and average star rating to make it easy for you (based on reports from the Apple store).
So grab your phone, hit download, and be on your way to tracking your calories, push-ups, hydration levels, minutes meditating and miles hiked!
Are you with me, guys? Let's dig in.
 
YA Classes: The Perfect Complement to Men's Wellness Apps
Looking to build strength, improve your flexibility and increase your vitality . . . and maybe tap into your Zen? YA Classes features a variety of movement and yoga and meditation classes for and taught by MEN! Add these classes into your weekly routine with one (or all of!) these men's wellness apps for the ultimate combo.
Not yet a YA Classes member? You can try it free for 14 days.
 
 
Here Are Our Favorite 9 Men's Wellness Apps:
1. MyFitness Pal
First up, we have MyFitnessPal. This app has been around for a while, and it's clear why – it's the ultimate calorie-counting app for the modern man. MyFitnessPal is the ultimate nutrition and fitness tracking app. It allows you to track your calorie intake, macronutrient ratios and exercise.
While this wellness app syncs with over 50 other fitness apps and devices – making it easy to incorporate into your existing routine – it does make tracking your food intake a full-time job. With MyFitnessPal, you are encouraged to track everything and see how many calories you consume.
 
 
 
It's like playing a video game where you have to hit a certain calorie count to win – except in this game, the prize is better health and a slimmer waistline. But let's be honest, sometimes the calorie counts are questionable. You're telling me that a slice of pizza only has 300 calories? Yeah, sure, and I'm the king of France.
No need to fret reading the nutrition label though; MyFitnessPal has a barcode scanner feature to easily log your food. You can also log your exercise and see how many calories you've burned. So, why not give MyFitnessPal a try and see just how many calories you're consuming and burning every day? Who knows, you might even discover a new appreciation for celery and plain chicken breast.
Reviews: 1.6 million
Avg. Rating: 4.7 stars
Check out this men's wellness app: MyFitnessPal
 
2. Fitbod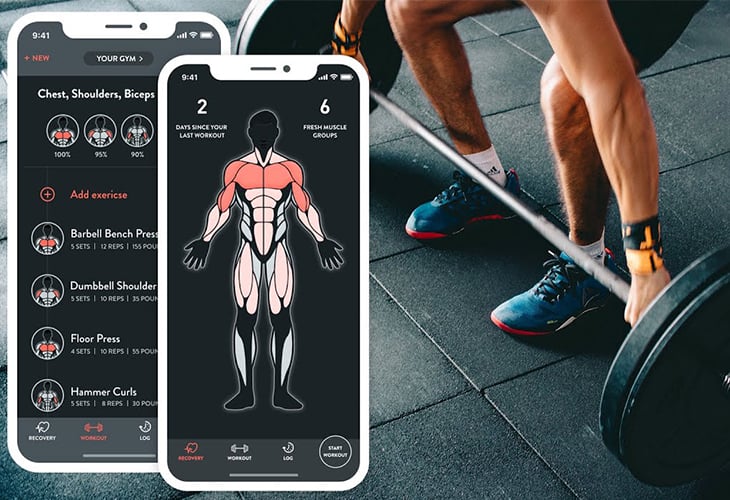 Next, we have Fitbod, a personalized workout app that customizes plans based on your fitness goals, experience level, available equipment and preferences. Fitbod has over 7,000 exercises to choose from and makes it easy and enjoyable with little animations and demonstrations for each exercise.
This wellness app takes the guesswork out of your workout routine and is like having a virtual personal trainer, without all the awkward small talk and unsolicited advice. The app tracks your progress and adjusts your workout plan accordingly.
So, if you're feeling particularly strong one day, it might suggest adding a few extra reps. But if you're feeling like a sack of potatoes, it might recommend taking it easy and doing some light stretching.
FitBod also has a feature that allows you to connect with other users and compare your progress. So why not try FitBod, make new virtual workout buddies and let an algorithm boss you around for a while? If you're not too careful, you might end up with the body of a Greek god (or at least a Greek yogurt version).
Reviews: 190,000
Avg. Rating: 4.8 stars
Check out this men's wellness app: FitBod
 
3. Noom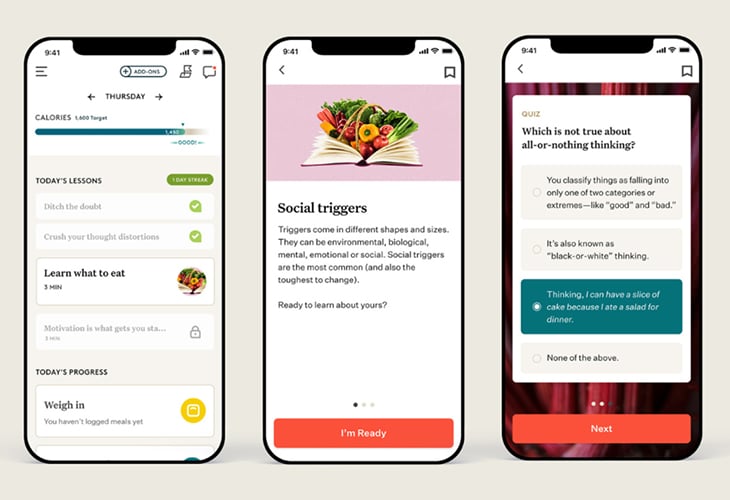 Now, if you want to lose weight through a different lens, Noom might be your wellness app.
Noom takes on a more behavior-based, psychologically-driven approach to weight loss, which means you'll have to stop snacking on junk food and start exercising. But don't worry, Noom will be there to cheer you on every step of the way – or at least until you reach your goal weight and cancel your subscription.
Noom is different from most traditional diet apps by not focusing on counting calories or restricting certain foods, but instead focusing on behavioral change related to all of those actions. It uses this interesting psychology-based approach to help you build healthy habits and create a sustainable lifestyle with a color-coded system to help you make better choices.
Green means go ahead and eat as much as you want, yellow means proceed with caution, and red means you might want to reconsider that extra slice of bacon. And let's be honest; most of us hope to see a green light whenever we open the app!
Did you know that your mental health is tied to your diet? Learn more with Nutrition and Mental Health: 8 Essential Foods That Elevate Your Mental Wellness
So, for those of you looking to lose weight and improve your health, Noom might be the wellness app for you. It's like having a personal coach that follows you everywhere and reminds you to make healthy choices. But don't worry, you don't have to 'talk' to it in public – discreetly swipe on your phone while pretending to text.
And if you're feeling motivated, connect with other Noom users and share your progress like a pro.
Reviews: 766,000
Avg. Rating: 4.7 stars
Check out this men's wellness app: Noom
 
4. Headspace
For those of you who are more interested in mindfulness and meditation, there are two popular wellness apps, both of which offer incredible guided meditations, sleep stories and soothing sounds to help you relax and unwind. Because let's face it, being a man in the 21st century is stressful – all those decisions about which beard oil to use and whether or not to buy a Peloton.
Want to amplify your self-care game? Here are 5 Mindful Self-Care Tips for Black Men That Support Mental Health and are ideal for all men!
Headspace is the most popular meditation app on the market right now, and for good reasons. With over 60 million downloads, it's clear why this app shines bright like a diamond. Headspace offers guided meditations for everything from stress and anxiety to sleep and focus. This wellness app also has a series of meditations specifically designed for men.
Give Headspace an honest try – it might help you dive headfirst into your inner Zen. Who knows, you might be the most relaxed person in your friend group (or at least the most chill when your phone battery dies).
Reviews: 929,000
Avg. Rating: 4.8 stars
Check out this men's wellness app: Headspace
 
5. Calm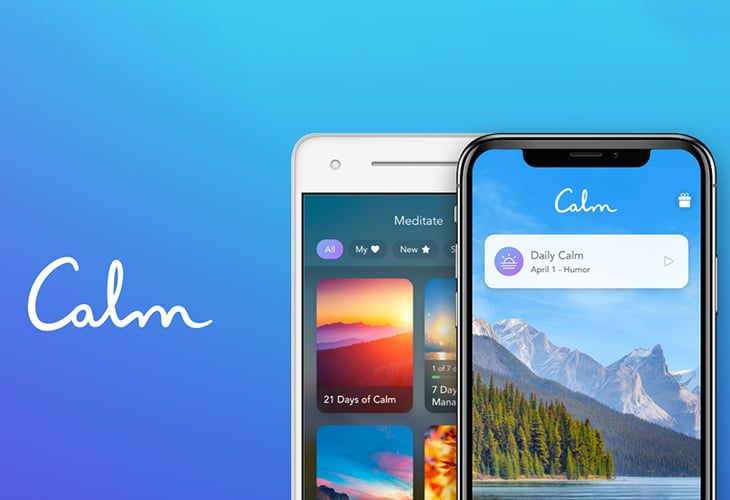 In addition to guided meditations, Calm, similar to Headspace, offers sleep stories, breathing exercises and music to help you relax and unwind. They also have a range of programs specifically designed for men, including topics like resilience and emotional regulation.
With Calm, you can choose from a variety of guided meditations, calming music and soothing sounds to help you unwind and find your inner peace and tranquility. It's like having a personal spa in your pocket, except without the hot stones and whale songs.
The app also has a "Sleep Stories" feature, essentially bedtime stories for adults. There are no rules that specifically mention that as men we need to outgrow our childhood habits when you can climb into bed and listen to Matthew McConaughey read you a story about a train ride!
Calm also has a feature that allows you to track your progress and see how many minutes of meditation you've completed. Because nothing says, "I'm spiritually enlightened," like obsessively tracking your screen time.
Reviews: 1.6 million
Avg. Rating: 4.8 stars
Check out this men's wellness app: Calm
How's Your Heart, Bro? A Veteran Shares Simple Strategies + Tips for Men's Health and Wellness
 
6. FitOn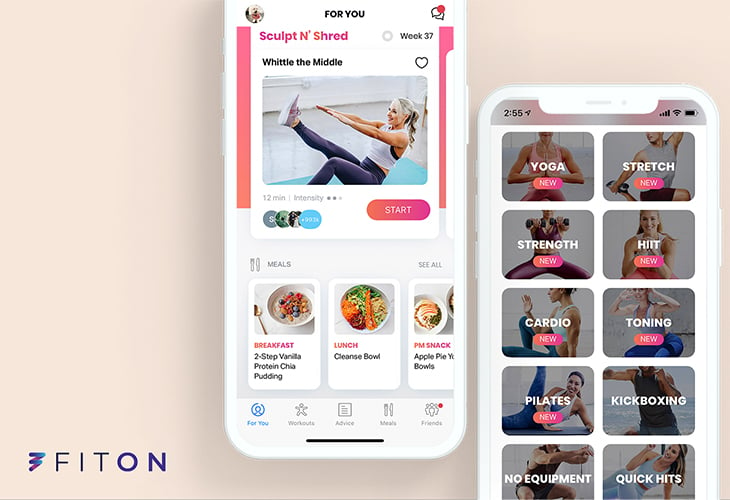 FitOn is a fitness app that offers a range of workouts, including HIIT, strength training and yoga. This wellness app offers live and on-demand workouts and personalized meal plans to help you achieve your fitness goals. FitOn is like having a personal trainer, except without awkward small talk and judgmental stares.
Guys: If You're Not Practicing These 7 Yoga Poses, Then You're Missing Out
FitOn brings the gym to you so you can workout in the comfort of your own home (or at least until your roommate walks in on you doing jumping jacks in your underwear). With FitOn, you can access a variety of workouts from top trainers, ranging from yoga to strength training to dance cardio. Sometimes the app's workouts are advanced and challenging, so be aware of such a fitness journey.
The app has a feature to track your progress and see how many calories you've burned. And let's remember the little notifications that remind you to work out throughout the day. Unfortunately, this may not resonate for all since many of us stubborn men, at least personally speaking, don't entirely need another guilt-tripped notification by our phones into doing a HIIT session?
FitOn, like many of these wellness apps, also has a feature that allows you to connect with other users and share your fitness journey. So, try it and see if you can break a sweat without leaving your living room?
Reviews: 283,000
Avg. Rating: 4.9
Check out this men's wellness app: FitOn
 
7. Hiking Project
If you're feeling adventurous, why not try Hiking Project? Hiking Project is like having a tour guide for your local nature reserve. With over 35,000 trails, you're sure to find a hike that will make you feel like a rugged outdoorsman.
The wellness app allows you to search for trails near you, read reviews and download maps for offline use. Just be sure to download the map for offline use because nothing ruins a hike like getting lost and asking for directions.
On this wellness app, you can record your hikes, how many miles you've trekked and share your favorite hikes with friends. And there is an option for users to submit photos of each trail, too. Who knows, you might become the next Bear Grylls (or at least the next person to get lost and have to call for help).
Reviews: 1,800
Avg. Rating: 4.5
Check out this men's wellness app: Hiking Project
 
8. Waking Up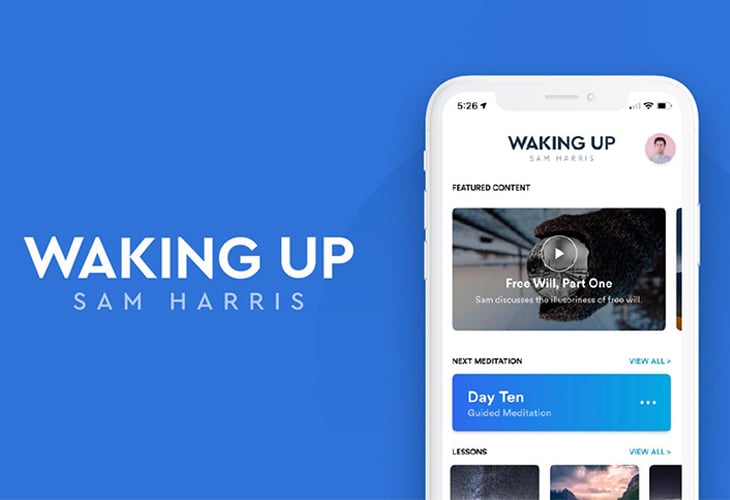 Waking Up is a mindfulness and meditation app created by neuroscientist and philosopher Sam Harris designed to help you wake up your mind and find inner peace. Waking Up offers guided meditations, talks and lessons on various topics related to mindfulness and spirituality. It's like having a personal guru, except without flowing robes and incense.
A word of caution: some sessions can be a bit intense – Okay, Sam, you're telling me to visualize my inner child and have a conversation with them? – since waking up can be edgy. So go slow and be compassionate with yourself on this journey.
Waking Up has a feature to track your progress and meditation time, and has a feature that allows you to connect with other users and share your mindfulness journey. Give Waking Up a try and see if you can find enlightenment before breakfast?
Reviews: 37,000
Avg. Rating: 4.9
Check out this men's wellness app: Waking Up
 
9. WaterMinder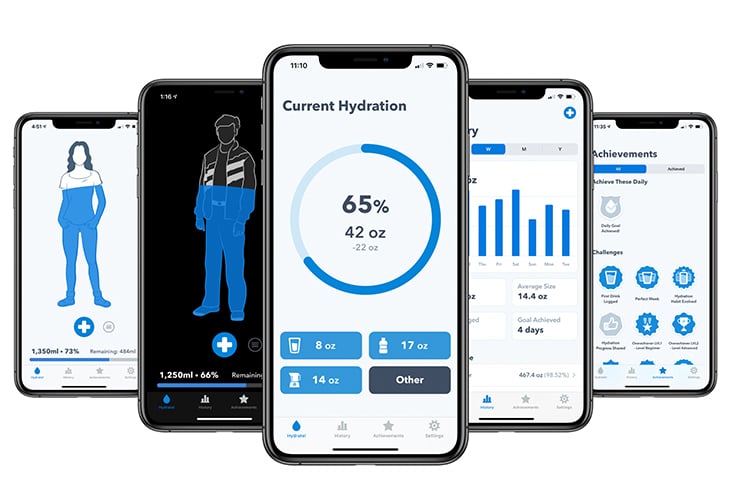 And finally, for those of you who struggle to drink enough water (and let's be honest, who doesn't?), there's WaterMinder. This wellness app will remind you to drink water throughout the day, and you can track your progress to ensure you're staying hydrated. It's like having a personal hydration coach, except without the Gatorade ice baths and pep talks.
This wellness app allows you to set daily water intake goals and track your progress throughout the day. The app also has a feature that allows you to log different types of drinks to keep track of your caffeine and alcohol intake. Just remember: everything in moderation, right?
It also syncs with Apple Health and Fitbit, making it easy to incorporate into your wellness routine. WaterMinder also has a feature that allows you to connect with other users and share your hydration progress. Who doesn't mind comparing pee color with other strangers on the Internet?
So why not try WaterMinder and see if you can stay hydrated all day? We all know that there's someone in the world who holds the title of the Water-Drinking Champion (or at least the next person to spend half their day in the bathroom).
Reviews: 24,000
Avg. Rating: 4.8
Check out this men's wellness app: WaterMinder
 
Bonus: DailyWorkoutapps
Men, if you're looking for a fitness app that will take your workouts to the next level, look no further than DailyWorkoutapps, which is especially designed with an emphasis on men's health and wellness. From tips on building muscle to advice on staying mentally sharp, this app is designed specifically with guys in mind.
At its core, DailyWorkoutapps is all about helping you get in the best shape of your life. Whether you're looking to build big biceps, sculpt your abs or tone your legs, DailyWorkoutapps has a workout that will help you achieve your goals. And with new workouts added regularly, you'll never run out of ways to challenge yourself.
Another thing that sets DailyWorkoutapps apart from other fitness apps is its emphasis on bodyweight exercises. While other apps might rely heavily on weightlifting or expensive gym equipment, DailyWorkoutapps shows you how to get an effective workout using just your own bodyweight.
This app takes a light-hearted approach to the serious business of fitness, offering tips and tricks that will have you laughing out loud while you're breaking a sweat. For example, the app might suggest doing "burpees for breakfast" or remind you to "sweat like a pig, feel like a fox."
These little quips are a nice touch that help make the app more engaging and fun to use. But the humor doesn't just serve as a way to make the app more entertaining. It's also a great way to help guys stay motivated and on track with their fitness goals.
Let's face it: working out can be a chore sometimes. But with this app, you'll find yourself looking forward to your next workout, thanks to the app's upbeat and playful tone.
Reviews: 41,000
Avg. Rating: 4.7
Check out this men's wellness app: DailyWorkoutapps
 
 
Five Stars for These Men's Wellness Apps
In all seriousness, these top men's wellness apps are the real deal when it comes to improving your health and wellbeing. These bad boys cover everything from getting ripped to finding your inner Zen, and they've got more ratings than your mom's lasagna recipe. These men's wellness apps are the real MVPs when it comes to meeting the needs of us men who are trying to be our best selves.

And let me tell you, customization is the name of the game here. These apps are like a personal trainer, nutritionist and life coach all rolled into one. You can personalize everything to fit your goals and preferences, and they won't judge you if you prefer beer over kale. They get it.

Now, we all know that every guy is unique, just like a snowflake, but with more hair and less sparkle. That's why these men's wellness apps are so great! They make it easy to tailor your wellness journey to fit your individual needs. It's like having a personal assistant that doesn't make you feel like a diva.

So, why not give one of these men's wellness apps a try? Plus, you'll finally have an excuse to buy those new workout clothes you've been eyeing. Give it a shot! Your biceps and your next partner in life will thank you.







Credit : Source Post