After the whirlwind visit to the U.S. last week, this week was pretty low-key, with a focus on getting back to a London routine & training for the Dublin marathon in 13 weeks (and the Medoc marathon in just 5 weeks! Did I mention that everyone runs Medoc in "fancy dress" – i.e. a costume- and the theme this year is Gastronomy. I need to figure out our costumes! Any suggestions? I want it to be something that is still easy to run in, particularly as it will be hot there.)
Here's how training went this past week:
Monday: Rest day from running, lower body Caroline Girvan workout after work + core
Tuesday: 7.4 miles before work with 3 miles of tempo effort in the middle, core after work
Wednesday: Run commute (4.65 miles) plus a social 5k with some people at the office through St. James/Green parks, 7.8 miles total.
Thursday: 6 mile run before work followed by core
Friday: 7 mile run before work with Ruth, followed up by upper body with Caroline Girvan on youtube. I joined a few colleagues to go to the Barbie movie in the evening. It was so great! We all really enjoyed it. Sadly, no pictures of our pink outfits!
Saturday: 18.5 mile long run- I started out going west on the canal to Paddington; I continued until I hit about 6 miles and then turned around.
Apparently I was nearly to a park called Wormwood Scrubs, I'll have to check it out next time. Then I went back to Paddington, got a little lost, and figured out to link up to Hyde park.
A lap of Hyde park + Kensington Gardens, back on Oxford street to Regent's park and home for 18.5 miles. It was a long one, all by myself! I listened to a mix of podcasts to start (one about Barbie and one about Scam Influencers!) and then the Taylor Swift ERAS tour setlist to bring it home. I took two gels, carried Liquid IV, and stopped one to buy a bottle of Lucozade (UK Gatorade). It was sunny and 75 degrees by the end.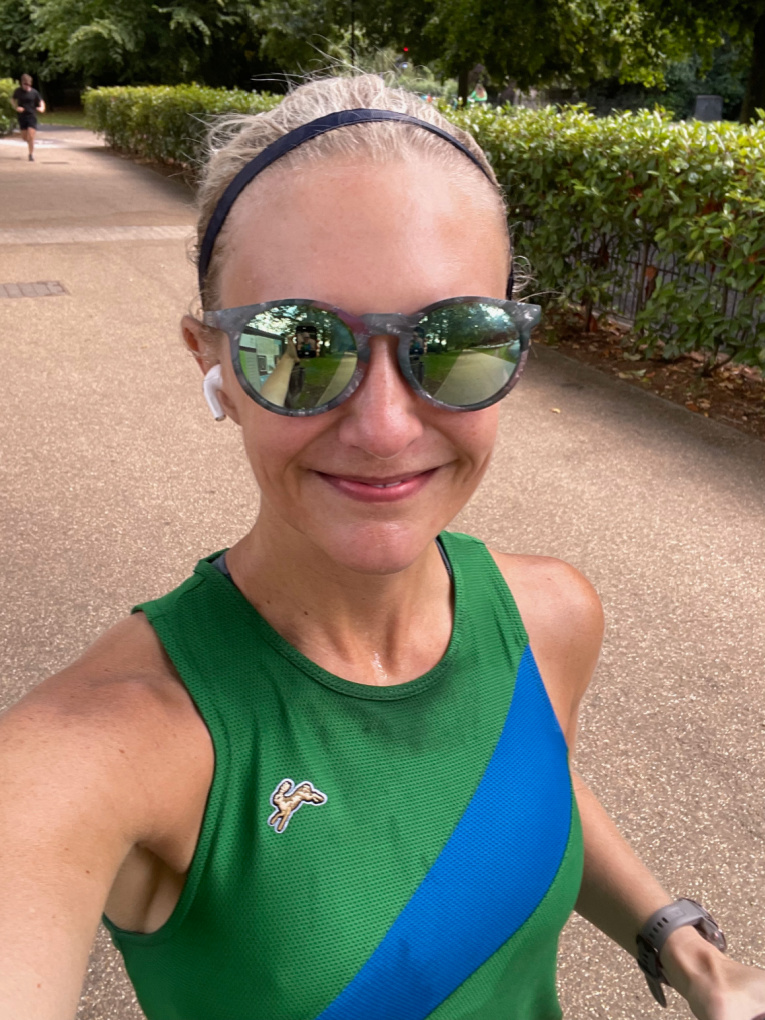 I was pretty tired after that long of a run, so the rest of Saturday was relatively low key, other than a decent walk with the pups. Dustin is still nursing the bum hamstring and building back to running, so he had taken already taken the pups to the Heath for some good zoomies. Spoiled dogs 🙂
Sunday: I ran 6 miles, with 5 with Dustin (and Ruth.)
Summary: 53 miles of running, 2 days of strength training, attempt at daily core
I recently have been running in the Hoka Mach X and thought I was loving them, but they have a lower heel drop than the New Balance 1080's. I started to feel some pain in my achilles after the 18.5 miler, so I'm rotating those shoes out for a bit to see if it heals up with my regular shoe. That's not an injury I want to repeat! I dealt with it in 2020 and it was a doozy.
Just for fun, here's a weekly picture of Ruth looking regal at Bruce's doggy daycare!
I'm linking up with Running on the Fly and Confessions of a Mother Runner; check out their blogs to connect with other fitness bloggers for workout ideas and inspiration!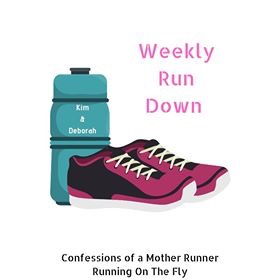 (Visited 25 time, 25 visit today)



Credit : Source Post